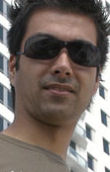 posted on October 19, 2005
As one of the most accoladed producers of the last two years or so, Matthew Dekay is a name that is now familar to many. Be it such tracks as 'Higher Thoughts' or 'Space Mountain Tablet', the forthcoming 'Timeless' or 'Digifruitella' or countless remixes and the odd cheeky bootleg and it's safe to say you've probably heard at least one of his tracks at some point in recent history.


As a DJ he's steadily made his way around the world and several months back earned himself a spot on Radio 1's Essential Mix, where his combination of house rhythms and trance melodies won over many, and since then he's developed and finetuned his sound even further. Now as we get closer to the end of 2005, Matthew Dekay is about to release his debut mix compilation 'Trousy', and we have all the details right here for you to check out.