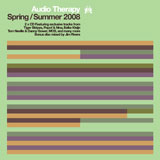 After the successful outings throughout 2006 and 2007 of Audio Therapy's unmixed seasonal CD series we present news of the latest instalment, the Spring/Summer 2008 CD.
A collection of exclusively signed tracks from some of the hottest names on the scene and left unmixed to showcase the quality of the productions in all their glory. This latest release features music from the more established names of Tiger Stripes, Popof, Tom Neville, Montero and Eelke Kleijn alongside the upcoming names of MOS, Danny Dove, Lukasewich and Hipp-e's new guise Mizfitz.
Alongside all of these great names sits an exclusive track from Jim Rivers whose profile has been rising fast with a set of top quality releases on illustrious labels like CR2, Pryda, Saw, Renaissance and Global Underground to name but a few. Jim also mixed all of the tracks together to provide an excellent bonus mixed CD version.
There will also be a limited run of 12" Vinyl as well as a full digital release.