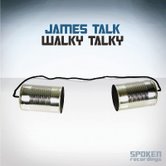 posted on February 20, 2008
If you've been anywhere near an electronic music event in the past few years, the likelihood is that at least one point during the evening you will have been moving to the hypnotic sounds of James Talk. Born and bred in Southampton, James's reputation has been forged on endless days in the studio perfecting his unique sound of funky tech and acid house, and spellbinding performances at some of the biggest clubs on the planet. He counts the likes of Pete Tong, Nic Fanciulli and James Zabiela amongst his biggest fans and supporters.
Now as we approach the WMC, James delivers his long awaited debut artist album entitled 'Walky Talky', a super smart 10 track snapshot of where he is today musically. With a pinch of house, some tech house meanderings, acid licks galore and as always plenty of funk, James has perfectly managed to fit his sound in a nutshell.
Released digitally through Beatport.com
on 25/02/2008 and subsequently across iTUNES, Dj Download, Napster and all other platforms worldwide on 17/03/2008, the album features brand new and exclusive music from James including vocal collaborations with the talented Yota and Liz Melody.