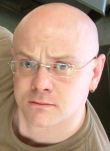 posted on September 20, 2005
Bristol producer Paul Crossman's career has always revolved around the breakbeat sound. Some might even say he was born a breaks freak. This is supported by the high regard in which his music is held amongst his peers in the breaks scene, with contributions to labels such as TCR and Kilowatt over the past few years all meeting critical acclaim. Having recently become the latest artist to join Distinctive's ever growing roster, he is now set to present his eagerly anticipated debut album 'Midi Style'.

In addition to the well known track 'The Westerner' the album features guest appearences from fellow Bristolians and friends MC Jakes, Miss Byrony Blue and MC Chickaboo. Further details can be found out by checking out this news preview on what looks to be yet another feather in the cap of the Distinctive label whom so far have had a tremendous 2005.