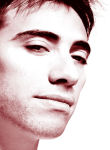 posted on August 31, 2005
The Balance series continues to evolve and always has the ability to deliver elements of surprise and intrigue, and Desyn Masiello's 'Balance 008' is no exception. A DJ, A+R and owner of several high quality labels, Desyn has steadily built his way to the upper echelons of the international circuit, and building on the foundations laid by his critically acclaimed 'Original Series' compilation for Bedrock, 'Balance 008' showcases Desyn Masiello at his very best.

In addition to this, Desyn will be appearing on John Digweed's Kiss FM show in October, and embarking on a worldwide tour in support of the album which takes him through the UK, Europe, and onto the Far East and Asia, with a string of US dates and a South American excursion in early 2006. The full details on this eagerly anticipated album are right here, and watch out for a new Desyn Masiello interview very soon.