Austin Leeds : Miami WMC DJ Dates
From 25.03.08 – 29.03.08 you can catch Austin Leeds DJing at the following parties: Juicy Beach Party, Nikki Music Party, Stealth Records Party, AM Only Party, Paul van Dyk's Vandit Night, and Ultra Music Festival.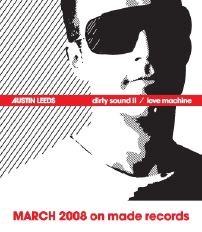 posted on February 8, 2008
If you've been keeping an eye on the tracks and remixes that have been topping the charts and radio plays for the last few years, you will surely have seen Austin Leeds' name before. He has had numerous songs in the Beatport Top 10, including 3 # 1 top downloads. Paul Van Dyk named Austin Leeds and his production partner Nick Terranova as his producers of the year for 2007 recently, an din March last year Austin joined AM Only, the worlds premier booking Agency. So you could say that this highly talented DJ/Producer is going places. With a world tour being lined up after the album launch at Miami WMC, you'll be hearing a lot more from Austin Leeds throughout 2008.
FYI
Austin Leeds was just invited by Paul Van Dyk to play at his Birthday / Label party in Berlin.
Starting in January 2008, Nick Terranova & Austin Leeds will alternate on their radio show featured monthly on Paul Van Dyk's VONYC Sessions on SIRIUS satellite radio
Nick Terranova & Austin Leeds have just put the finishing touches on what will surely be a certified hit reconstruction of the Binary Finary classic "1998", to be released in May 2008 on Paul van Dyk's Vandit label.
Nick Terranova & Austin Leeds' 2008 release schedule is filled with compilations, artist albums, productions and remixes on labels including Juicy Music, Ultra Records, Joia, Ministry of Sound, Vandit and Nervous Records - to name a few...