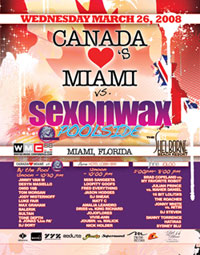 As the name implies, a number of Canada's best imports will be gathering to help kick off the week right, including the likes of Max Graham and Luke Fair. Aiding them in this endeavor will be the Sex On Wax label crew consisting of Desyn Masiello and Omid 16B. I can't think of a place I'd rather be as soon as I get off the plane!
Location: Shelborne Resort, Poolside
Time: Noon to 10:30 PM
Talent: Luke Fair, Max Graham, Sultan, Jody Wisternoff, Desyn Masiello, Omid 16B, Jimmy Van M, 16 Bit Lolitas, Tone Depth & Jonas, and many more...
Cost: $40 Tix
Website: shelborne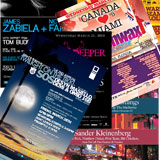 if you find me, ask for a tshirt
The Winter Music Conference 2008 has officially begun as of Tuesday March 25 and with that begins one of the most exciting weeks of the year for electronic music fans and industry alike. WMC is one of the focal points of the yearly dance music calendar, bringing together DJs, producers, labels, promoters, and everyone else in between for one week of intense partying and possibly a little business and networking too.

This year Progressive-Sounds is sending one of its own to the front-lines in Miami to cover the cutting edge of dance music at its finest. This is a week when every DJ strives to be in top form as all the influential ears of the industry are listening, which means trying to stand out from the rest is a true challenge, even for seasoned veterans.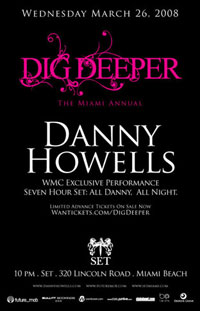 Wednesday, March 26: Dig Deeper With Danny Howells
This edition of Danny's Dig Deeper event series will see him playing an extended set in the heart of Miami Beach late into the night. This really gives him a great platform to play a diverse range of music, and is quite different to what you will see at most WMC events, with 10+ DJs on the bill playing 2 hour sets. It should be great to hear a veteran like Danny take his audience through an entire night from start to finish.
Location: SET Nightclub
Time: 10 PM to 5 AM
Talent: Danny Howells (Extended Set. All Danny, All Night)
Cost: $25 Tix
Website: theopiumgroup.com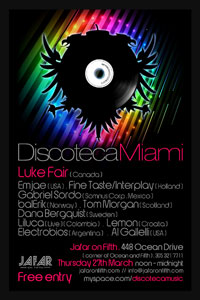 Discoteca Music is a label I was recently turned onto after a bit of digging around on MySpace (sad but true). Its a relatively new house label that was founded by a group of 4 like-minded DJs from around the globe, who are now joined by house veteran Luke Fair. Although Luke might be the only big name on the bill, each of these DJs is equally capable of putting together a great set, and I'm looking forward to learning more about each of them.
Location: Jafar on Fifth
Time: Noon to Midnight
Talent: Luke Fair, balErik, Tom Morgan, Dana Bergquist, Emjae, Fine Taste, Gabriel Sordo, and more...
Cost: Free
Note: The latest tune from Discoteca is 'Futourist' by Jay Lamar, and the Dana Bergquist Remix is a gem.
Website: MySpace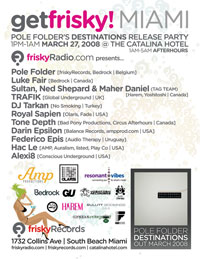 Thursday, March 27: Get Frisky! Miami
One of dance music's premier online radio stations Frisky Radio is putting together an event during WMC this year to celebrate the launch of their Frisky Music label and their inaugural release with a compilation mixed by Pole Folder titled "Desinations." They've got a stellar line-up put together comprising of great house and progressive DJs spinning pool-side which is sure to be a real treat. You just need to ask yourself, are you "Feeling Frisky?"
Location: The Catalina Hotel
Time: 1 PM to 1AM
Talent: Pole Folder, Luke Fair, Sultan, Ned Shepard, Maher Daniel, Trafik, and more...
Cost: Free
Website: Frisky Radio
I'm not really sure much needs to be said about this one that isn't implied in the title of the event, but I'll take a quick stab at it. The launch party for the latest edition of the infamous Balance CD mixed across three discs by none other then the SOS trio of Desyn Masiello, Omid 16B, & Demi. Need I say more? These guys have been a hot item throughout the course of their relatively short time together. Sure Desyn's already had a go at the series, but trust me when I say this is an entirely different beast. Prepare for a great night of music that will see the SOS collective kicking off a year of busy international touring. And on a small side note, Pawn Shop is supposed to be a very unique and interesting venue.
Location: The Pawn Shop Lounge
Time: 10 PM to 5 AM
Talent: SOS featuring Desyn Masiello, Omid 16B, & Demi
Cost: $25 Balance MySpace, Made Event, The Pawn Shop Lounge
Friday, March 28: Sasha & John Digweed Boat Party
Every year the legacy of Sasha & Digweed's infamous WMC boat party grows larger. Being both one of the most talked about but also most exclusive events of the conference, I am honored to have the chance to attend and share my experience with our readers here at Progressive-Sounds. Because this event tends to be shrouded in mystery, I'm sure everyone will be extra interested in this one, aside from the fact that it features to dance music legends performing in a very intimate setting. This is the stuff dance music dreams are made of.
Location: Secret!
Talent: Sasha & John Digweed
Cost: Invitation Only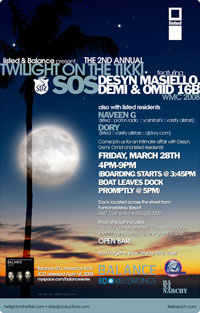 Friday, March 28: Twilight On The Tikki With SOS
Giving Sasha and John a run for their money with one of the most exclusive boat parties of the conference are the SOS boys. Although this event is in fact public, very few tickets were made available at an extremely high price. But in any case, I doubt anyone who bought tickets to this event will be regretting it anytime soon, as the SOS trio is a hot item right now that is sure to provide maximum entertainment value for the dollar. To be honest, presented the choice I'm not sure which event I would rather attend!
Location: Tikki Boat
Time: 4PM to 9PM
Talent: SOS feat. Desyn Masiello, Omid 16B, & Demi
Cost: Sold Out!
Website: twilight on the tikki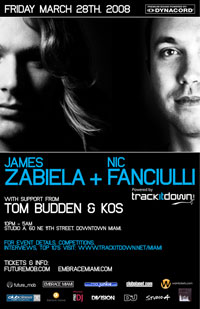 Friday, March 28: James Zabiela & Nic Fanciulli
This pairing of DJs unveiled their partnership as One + One last year during WMC, but will be focusing more on their solo projects in 2008. So this may be one of few events they DJ together this year and beyond. Without question they will go out in the true dance-floor rocking style they are known for, whether playing individually or together.
Location: Studio A
Time: 10 PM to 5 AM
Talent: James Zabiela & Nic Fanciulli, Tom Budden, KOS
Cost: $30 Tix
Website: Embrace Miami