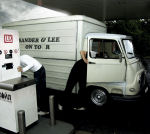 posted on October 7, 2005
Sander Kleinenberg and Lee Burridge, each well renowned as well as internationally respected DJs, team up for this musical journey into the future in third installment of the Everybody! series. 'This Is Everybody On Tour' is not just a musical diary of but also the real life journey of 2 top DJs and producers. A journey consisting of bumpy roads, dirty hotel rooms, a broken tourbus, bad weather and unreadable maps, and some of the best music around at the moment.

Both DJs have had tremendous careers to date, with compilations on Global Underground, Fabric and Renaissance amongst their collective discographies. 'This Is Everybody On Tour' is the first album to to be released on Sander Kleinenberg's Little Mountain label. For more information on this latest release, including press release and tracklist, check out our feature.