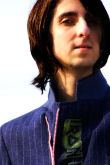 posted on January 20, 2006
James Holden's DJ sets are almost a mirror image of not only the diverse remixes and beautiful music he makes, but also reflect the flowing groove and unclassable depths to the different elements that his productions encompass. His 2003 'Balance 005' compilation is still held in high regard, and a new compilation from James has been eagerly anticipated ever since.


A technological evolution from that aforementioned album, 'At The Controls' sees James bring together two CDs of music that he loves, incorporating elements of psy trance, 70s krautrock in addition to new material from himself and the Border COmmunity family. With an EP of original work also set for release later in the year, and remixes of artists that include Black Strobe and Depeche Mode, 'At The Controls' kicks off a big year for James and will be released in March on Resist Music.