SoundBytes Volume 92
Times may change, as does this website, but SoundBytes has been a major component of Progressive-Sounds for many years, and still is as Chloe delivers an hour long mix to celebrate the site's re-launch. In between playing Turkey, the Global Gathering festival in the UK and Tenerife over the next few weeks, her debut single Skooch is due to be released on Mashtronic Records complete with a remix from Oliver Lieb, and her remix alongside Canada's Deeburn of Petter's 'Freak N Love' is available now from Beatport.

Karmina - Wonder [Opossum]
Stephan Bodzin - Treibsand [Cocoon]
Tom Mangan - Texas [Souvenier]
Chris Barratt - Red [Jesus Loved You]
Sebastien Leger - T [The Source]
Bini & Martini - Low Frequencies (Gold Frequencies Mix) [Ocean Trax]
Oliver Giacomotto - Gail In The O (John Acquaviva & Damon Gee Remix) [Definitive]
Chris Micali & The Luxembourg Brothers - Body Yo (Vocal) [Commonwealth]
Petter - Freak & Love (Chloé Harris & Deeburn Remix) [Deep Focus]
Max Cooper - Tamper [Evolved]

SoundBytes Volume 91
Having spent the last few weeks DJing across Mexico and Texas, and ahead of a number of European dates, Chloe is back and kicks off 2007 with the latest Soundbytes. Drawing upon music from some of her favourite labels of the moment, Chloe presents a selection of lesser known tracks that have currently been rocking the dancefloor for her, and hopefully you will enjoy the music equally as much.
SoundBytes Volume 90

From London to Helsinki, Helsinki to Seattle, and Seattle across America, it's been quite a job trying to keep tabs on Chloé as of late, but now back in London, she's taken time to put together Soundbytes 90 for us, featuring an upfront selection of tracks and remixes from Lazy Fat People, Solieb, Mashtronic, Stian Klo, Phatjak and Bart Van Wissen in one cohesive and upbeat mix that you should definitely check out. Enjoy!

SoundBytes Volume 89
Ahead of several dates alongside John Digweed as part of the North American leg of his 'Transitions' cd tour, Chloe returns again with the latest edition of Sound Bytes. This week, she puts together a mix that includes some of Oliver Lieb's latest production work, plus material from his Monofleur label, in addition to new tracks and releases from Audiofly X and the Poker Flat imprint. Enjoy!

SoundBytes Volume 88
After several weeks on tour, playing gigs in Miami, Mexico and most recently warming up for Infusion in her native Seattle, Chloe returns to the fold with the 88th edition in the Sound Bytes series. Featuring a selection of some of the tracks currently lodged in her record box, Chloe puts together another seamless 30 minute mix featuring new material and remixes from Lostep, Dan Mangan, James Holden and Fretwell, so be sure to check it out.

SoundBytes Volume 86
Chloe returns the latest edition of Sound Bytes, taking a different direction than she has previously, highlighting some of the many different styles and sounds she plays live. Sound Bytes has been one of our most successful ideas throughout the site's history, and we look further to expanding upon this in the coming weeks and months.

SoundBytes Volume 85
Digging through a selection of the latest cuts, Chloe returns with another Sound Bytes. Featured tracks include 'Estrange', taken from the latest Dousk single on Vapour Recordings, in addition to remixes from Chris Micali and Harry Lemon, once again showcasing a smooth cross section of some of the best floor fillers of the moment.

SoundBytes Volume 84
Mr Spin remains in the Sound Bytes hotseat this week, and brings to us a quirky little mix featuring tracks from Bjork, Bent, the excellent Matthew Dear and Alex Smoke amongst others. in addition to one of his own personal favourites, Four Tet's 'Untangle'.

SoundBytes Volume 83
Mr Spin fronts Sound Bytes for the second week in a row with a mix of the coolest cuts and sounds around at the moment. Trentemoller continues to impress with his latest track 'The Forest', whilst Philly boys BCML cook up some 'Trubbel'. Nic Fanciulli provides the deep analogue warmth of 'You Snooze Your Lose' and Jesper Dahlback and Dave Robertson bring up the rear, in addition to a little gem lifted from the superb BPitch Control label.

SoundBytes Volume 82
With Chloe back on her travels, Mr Spin jumps in the Sound Bytes hot seat once again, and this time throws together a varied range of tracks and tools, some current, others somewhat overlooked, with everyone from Holden to Slam to Slacker, plus the excellent Alex Smoke all present and correct...

SoundBytes Volume 79
As another week comes to an end, that must mean its time for another volume of the ongoing Sound Bytes series. Since Chloe's returns from her recent travels, each volume has showcased a wider, more varied selection of tracks, and this week is no exception. Over 30 minutes she puts together a sublime mix of electro and progressive breakbeat for your listening pleasure, so tune in, trip out and enjoy!

SoundBytes Volume 78
Not one to shy away from diversity, Chloe presents another 30 minute mix of tracks, this time on a more banging progressive tip. Some of these tracks may be familar to you, and others may not. Either way, tune in, and check out..

SoundBytes Volume 77
CHLOE IS BACK from a UK tour which included a stop at Bedrock. She return with sounds of minimalism, sounds of experimentation, sounds of techno. Sit back, grab your headphones and get a little crazy with Chloe. If you get a chance, welcome her back from our contact section.

SoundBytes Volume 76
Progressive-Sounds is pleased to introduce Jason Calvert, AKA Spin Division on this installment of Sound Bytes. Chloe has been busy DJing in the UK at the infamous Bedrock alongside John Digweed. While she is away, we asked our newest member of the Progressive-Sounds team to step up to the decks and fill in for her. Jason has been doing sets for UltraMusique for well over a year and has just signed on as the fourth member on the Progressive-Sounds team. For Volume 76 of Sound Bytes, Jason delivers 30 minutes of high intensity breaks and straights that will be sure to get you going. While you are listening, be sure to check out his reviews of some of the same tracks in the set. If you like what you hear, be sure to send him a welcome message from our contact section.

SoundBytes Volume 75
Somewhat of a departure from what some of you may be used to, it's a side of Chloe that listeners of her show and indeed those who have seen her live will be all too familar with, so tune in, kick back and chill out..

SoundBytes Volume 74
After an extended hiatus due to a recent DJ tour of Europe, Chloe is back with another edition of the long standing Sound Bytes mixes. Featuring tracks from Europe, courtesy of Humate and Dominic Plaza, plus the latest work of US heroes Freaky Chakra and Sean Cusick amongst others. The mix represents Chloe's transatlantic escapades as of late and still remains true to the Sound Bytes ethos.

SoundBytes Volume 73
The first Sound Bytes of 2005 sees Chloe bring together some of her current favourites with a worldwide cast of stars represented. New material from Habersham leads the charge, with an awesome dub excursion of Nikki B & Christian EFFE's 'Eyes' on Greek label Swift Records follows next. Finally, those Dirty Fours boys from Down Under are on hand with the foreboding and ominously titled 'Machines', with the Turkish two of Muzo & Barish Turker ensusing there is enough 'Adequate Medication' to go around. All in all, a veritable melting pot of sounds, mixed in Chloe's own impeccable way.

SoundBytes Volume 72
Just in time to wrap things up before Christmas is upon us once again, Chloe returns with another chapter in the long standing Sound Bytes story. A selection of some of the finest recently released tracks are here for your listening pleasure, so be sure to take a listen.

SoundBytes Volume 71
Another Sound Bytes lands, and this time Chloe has served up quite a treat, featuring some of the finest upcoming tracks around at the moment. With an unsigned track by Canadian artist Afk leading the charge, prepare yourself for a stunning new track from Derek Howell taken from his new EP on Bedrock, in addition to the superb Dousk Mix of the new Space Manoeuvres single on Lost Language. In addition to this Leama & Moor take a slightly different route with their new track 'Fact Of The Matter', whilst the Superpitcher Mix of The MFA's 'The Difference It Makes' wraps things up nicely.

SoundBytes Volume 70
It's been a little while coming, but returning from a UK vacation that also saw her play at Bedrock, Chloe continues with the 70th installment in our Sound Bytes series. Bringing together some of the tracks she's into at the moment, she puts together another cohesive and flowing mix that features some of the best upcoming talent around at the moment. Enjoy!

SoundBytes Volume 69
Chloe gives us a no nonsense Sound Bytes this time around, an energetic and pumping 30 minutes of some of the best new tracks around, with material from Peter Martin & Derek Howell, Quivver, Tim Skinner and the inspirational 'Inhale' by Madoka all present, so be sure to tune in and check out.

SoundBytes Volume 68
Having spent several days on a DJ and sightseeing tour of Mexico, Chloe is back, and she's wasted no time in putting together a new edition of Sound Bytes. During the time she was away, as we all know Adam 'Starkid' Spears, who happened to be a good friend of hers passed away, and as such this is a tribute to Adam, including a remix of his own 'Crayons' track which he happened to love that will be released shortly in tribute to him., so be sure to check out this mix as Chloe pays her final respects to her departed friend.

SoundBytes Volume 67
With James Zabiela having joined us for the last installment of the every continuing Sound Bytes series, Chloe now returns with a selection of some of the latest tracks currently sitting in her dj box. From the dubbed out ambient mix of Redanka's 'Waves' and the deep sounds of Nemos'
'Summerwinds', through to heavy hitting cuts from Kasey Taylor and Blue Haze, you can bet if you happen to catch Chloe on her touring around America in the next few weeks that you'll be hearing some of these, and for those of you who will miss out, she's put them together like only she can, here for your enjoyment!

SoundBytes Volume 66 - James Zabiela: ALiVE bYteSyzed
This week on Sound Bytes we are proud to present to you James Zabiela, who ahead of the pending release of his eagerly anticipated compilation 'ALiVE' on Renaissance (and also System Recordings in the US), has put together this 30-minute mix entitled 'bYteSyzed'. James has always been a supporter of this site, and has fully embraced the technological advancements the Internet and new DJ hardware has brought, as his recent interview for IDJ Magazine highlights, so to be able to present an upfront preview of this mix which will soon be hosted on his own website is a priviledge for us. Tune in and enjoy, and check back soon for an interview with James himself, plus a review of his forthcoming compilation.

SoundBytes Volume 65
Another week, another Sound Bytes, and Chloe is on hand with the creme de la creme of some of the current and future hits that are sitting in her record box. Kicking off with 'Life Under', a track lifted from Dousk's superb new EP on Bedrock, the reunification of Parks and Wilson and Quivver as Tilt with a breakbeat epic called 'I Know You're Afraid' continues things from the halfway stage with unreleased remixes by BlueRoomProject and The Forth filling things out nicely before the mix climaxes with the instrumental of the new Nubreed & Luke Chable single 'One Day'. Enjoy!

SoundBytes Volume 64
Another week, another Sound Bytes, and this time around Chloe puts together a rather smooth journey though downtempo and breakbeat that will ease you into the weekend and the week ahead. Taking us deep with tracks by Fretwell, Hybrid and Pole Folder, before slamming at the end, be sure to check this out. You wont regret it!

SoundBytes Volume 63
This latest Sound Bytes is something a bit different as Chloe highlights some of the material currently available for on the digital download site EDM Digital, amongst some of the finest releases of the moment. Internet-Only mixes of tracks by Habersham & Numinous and The Operators lead us into the mix, with current and future bombs from The MFA, Peter Martin and BlueRoomProject filling things out rather nicely indeed. Enjoy!

SoundBytes Volume 62
Once again Chloe has gone off on her travels, this time heading to Miami. However, just before she left she put together this latest Sound Bytes which showcases a side of Chloe that many of you may not have heard previously. Her love for downtempo and ambient is something regular listeners of her B-Sides show on Proton Radio know all about, and here new tracks from Nathan Fake, Lusine and Arovane amongst others provide some awesome laid back sounds for your listening pleasure.

SoundBytes Volume 61
Having wowed the natives of Poland, Chloe returns back across the Atlantic and wastes no time in mixing up another Sound Bytes, with some of the finest in breaks at the moment. An evoking opening from Jacob Todd leads the way into new tracks from down under, courtesy of Jono Fernandez and Lostep, with man of the moment Habersham's 'Body Phunk' sitting tightly in the heart of the mix. Finally those Texan cowboys Pinkbox Special are on hand with their latest cut, 'Red Butta'. Enjoy!

SoundBytes Volume 60
On the eve of venturing off across the globe to play in Poland for the first time, Chloe has turned in the 60th edition of Sound Bytes which is definitely one for the heads amongst you out there. Taking a more techy route that long time listeners may be familar with, Chloe once again highlights the diversity in her musical taste with some of the quality cuts put together here, exclusively for your listening pleasure.

SoundBytes Volume 59
After a brief hiatus, Chloe returns with another edition of Sound Bytes, featuring tracks from well known names such as Subsky and Ben Camp, alongside up and coming Texas star Lance Cashion and Alican & Sonar, showcasing some of the tracks that have been floating her boat lately. Enjoy!

SoundBytes Volume 58
Chloe returns from the chaos and mayhem that was the debaucherous WMC2004, and puts together this latest Sound Bytes for us. Volume 58 has Chloe showcasing some of the bigger tracks that were doing the rounds down there in Miami. From the mellow broken breaks of Habersham's 'Transparent Sound' to the melodic warmth of Benz & MD Vs Ebrius's 'Sound 84,' Chloe once again pulls out the stops and turns in one of the finest editions of Sound Bytes yet.
SoundBytes Volume 57
Before heading off to represent Progressive-Sounds at the Winter Music Conference, Chloe dropped this latest edition of Sound Bytes in our lap, featuring some of the recent tracks that have been gaining attention across the globe. The long awaited Luke Fair mix of 'I'm Waiting' kicks things off, with material on new labels such as Katania Music and Mining Vinyl also getting showcased alongside new singles from Chab and Hungarian outfit Monkz. Enjoy!
SoundBytes Volume 56
It's been a few weeks, but Sound Bytes returns, leading us further into the year, and closer towards a new era in the lifespan of Progressive-Sounds. As usual Chloe cooks a mix of some of the finest overlooked cuts of the last few weeks and adds in the odd unsigned gem for you to check out. This time around we have a track from Ireland's Poison Dwarf kicking things off, with new tracks by Descent and up and coming star Emrecan Cakir just some of the delights on offer. Enjoy!
SoundBytes Volume 55
Another week of 2004 passes, and another Sound Bytes arrives. Featuring
tracks from some of the lesser known artists such as PJ Davy and Erin
Mckeown, Chloe twists thought up a little with big basslines, trippy
melodies and good old house grooves dominating this week's edition. Enjoy!
SoundBytes Volume 54
The latest Sound Bytes is a globetrotting mix which features new tracks from the Isle Of Man's Source Of Gravity and Gravitation labels, with MOMU remixing Marino Berardi's 'Clear The Skies' for Japanese label 19BOX. Canada is represented by Benz & MD's excellent 'Snowblind', a superb track from one of the country's hottest new duos, whilst fellow Canadians Delerium get the re-rub from Australian trio Infusion. It 'Truly' is another great mix, so check it out.
SoundBytes Volume 53
2004 arrives and already the hands of time are turning here at Progressive-Sounds like never before. Once again Chloe is on hand to "shoot some bombs at ya" like only she can, with new tracks from BlueRoomProject, Yunus and Subsky and Moshic sitting alongside remixes from Marscruiser and Evolution, all brought together in one moody rising 30 minute soundscape. Welcome to 2004: Progressive-Sounds style..
SoundBytes Volume 52
After a few weeks absence, Chloe returns with the latest edition of Sound Bytes, slipping into her more traditional trippy and twisted downtempo mood, with tracks from Substructure, Gwill Morris and Ozgur Can. All this blends together to form half hour's worth of twisted bleeps, beats and basslines. Enjoy!
Substructure - Firewire (Sumsonic)

Drive - The Beat Goes (Gwill Morris Deep Mix) (Global Recordings)

Ozgur Can - Over Nothing At All (Unsigned)

Gwill Morris - Time (Luke Chable Dub) (Skyline)

Blue Haze - A Time To Reflect (Institution Breaks)
SoundBytes Back Soon
Due to the ongoing redevelopment of Progressive-Sounds, Sound Bytes is currently offline and will return in the future. We apologise for any inconveniance this may cause, but a new and improved service will resume in the near future, with another special mix from Chloe. Keep checking back for further annoucements about Sound Bytes and other forthcoming developments here at Progressive-Sounds.
SoundBytes Volume 47
Sound Bytes 47 sees Chloe mellow out and head off in a more chilled direction. Starting off with the Chillout Mix of Motorcycle's 'As The Rush Comes', this collaboration between Gabriel and Dresden and Jes Brieden has been receiving huge support and now appears in laid back form. Next up is Leftfield's Paul Daley, who's remix of Massive Attack 's 'Butterfly Caught' has found it's way onto several downtempo compilations. Unsigned tracks from Analogue Grrl & Staple as well as Derek Howell sit nicely in the mix, with a new cut from Pako and Frederik entitled '45 Minutes' also being notable. Finally the instrumental of BT's 'Somnambulist (Simply Being Loved) ends it's all in with an odd melancholic twist. Whatever next from our Chloe?

Motorcycle - As The Rush Comes In (Gabriel & Dresden Chillout Mix)

Massive Attack - Butterfly Caught (Paul Daley Remix)

Analouge Grrl & Staple - Every Single One - unsigned

Pako & Frederik - 45 Minutes - Global Underground

Derek Howell - Folding - unsigned

BT - Simply Being Loved (Instrumental) - Nettwerk
SoundBytes Volume 46
The Sound Bytes saga continues as this week sees Chloe put together a spacious, deep set, with another track from Within's 'Intuition EP' kicking things off as the latest cut from the Deep Space Organisms boys, 'Theta' gets things underway. The vibe is kept floating with the superb Holmes Ives Dub of Seroya's 'Only Your Love' on Shinichi. From there we head down under for the latest offering from Jono Fernandez, and those progressive old timers Spooky return with the very limited 'Andromeda'. Echomen finish up the mix with another of their usual offerings, this time in the form of 'Cure'. As Sound Bytes approaches 50, one can only imagine what the next few weeks have in store.

Deep Space Organisms - Theta [Within]

Seroya - Only Your Love (Holmes Ives Dub) [Shinichi]

Jono Fernandez - Monkey Business (Jay Tripwire Mix) [EQ Grey]

Spooky - Andromeda [White Label]

Echomen - Cure (Dragon Dub) [SAW Recordings]
SoundBytes Volume 45
Chloe embarks down the breakbeat route once more on this latest Sound Bytes, kicking off with Bedrock's electro-breaks epic 'Forge'. Slipping in straight after is a cut taken from the forthcoming 'Intuition EP' on Within Records. 'Stone Wardrobe' is the first of many tracks you will hear over the coming weeks, and bridges the way nicely for the latest Shiloh single 'Swerve', which trails off after being pre-empted by a hot new joint from Dave Katz. Finally we revisit last week slightly with the 'Rewind Mix' of Matthew Dekay & Akatishia's 'Time To Think', which ends it all in grand fashion.

Bedrock - Forge - Bedrock Breaks

Monothy & Jahk Bass - Stone Wardrobe - Within Records

Dave Katz - Don't Break The Ming Vase - unsigned

Shiloh - Swerve (Trail Mix) - Electrofly

Akatishia vs. MatthewDekay - Time To Think (Rewind mix) - Extrema Music
SoundBytes Volume 44
After a little lay off, Chloe is back with another edition in the ongoing Sound Bytes series. This time around sees her tap into her house roots, with a track from Mazi and Lori. From there, she moves into more progressive territory with tracks from True To Nature and Rolasoul sitting in the mix, surrounding a track that is without a doubt one of the finest of the moment, Matthew Dekay and Akatishia's 'Time To Think', the theme from this year's Extrema Festival in Holland. Be sure to check it out..
SoundBytes Volume 43
Volume 43 of Sound Bytes takes a look at some of the finest up and coming material currently getting people running to the booth to find out what it is. Kicked off in tremendous style by one of the BorderCommies, Meerkat, the baton is soon handed to those Delikate Imposters to run with. New York's BlueRoomProject also feature twice in this mix, with a stunning Panoptic remix of their forthcoming single 'Forty Nights' ending the mix. And if that's not all, Chloé's debut production is included in amongst it all. Do not miss this!
SoundBytes Volume 42
The weekend is almost here, and what better way to celebrate than with another edition of Sound Bytes. This week sees Chloe throw together some of the finest unsigned, unauthorized and unreleased cuts, with new cuts from Madoka sitting alongside a blinding breakbeat track from new producer Arfloteba, as well as the latest work of Evan Marcus, who recently had one of his tracks on John Digweed's KissFM show. Throw in some phat joints from Stereo Underground and Halogen, and top it off with another of Digital Witchcraft's scrumptious delights, and this is without a doubt one of the best Sound Bytes to date.
SoundBytes Volume 41
This week see's Chloe change things up a little, focusing on some of the lesser known labels and in the process creating one of the most diverse editions of Sound Bytes yet. Kicking off with the laid back sounds of Lynx's downtempo reinterpretation of Chris Sterio's 'Orion', the mix soon shifts a gear as we head into Blue Room Project's latest breakbeat track 'Poets'. From there Canada's Noel Sanger lends his hand to the latest cut from Japan's DJ19, 'Ocean Drive', whilst the trio of Future Acoustics, Kingpin and Phasebase keep the transatlantic grooves flowing till the final beat. Transatlantic international sounds on the information superhighway, straight out of Seattle.

Chris Sterio - Orion (Lynx Downtempo remix) - Source Of Gravity

Blue Room Project - Poets - unsigned

DJ 19 - Ocean Drive (Noel Sanger's Deco-Retro Funk remix) - 19 Box Recordings

Future Acoustics - Give It All Up (Dub mix) - Plastic Fantastic

Kingpin - Banghazi - Black & White Records

Phasebase - Acid Tribe (Original) - Tripple Five Recordings
SoundBytes Volume 40
Sound Bytes hits another landmark as this is the 40th that Chloe has put together for the site. Kicking off with a track from Balance Promote's very own Villo alongside his friend Beau, soon descending into the outstanding Delikate Imposters remix of Bjork's Kindness Kind. From there two prog heavyweights come together in a meeting of minds, as Steve Porter and John 'Quivver' Graham spend 3 Days On 35th. Madoka impresses once again on his floor ripping remix of Matthew Dekay's 'If I Could Fly' and as Vector13's 'Rise' ends this week's mixture of hot cuts, you will find it hard to do as the title says. Get up, and enjoy...

SoundBytes Volume 39
Chloe steps up to the decks once again to deliver a great collection of tracks in Sound Bytes 39. Tune in and check it out.

SoundBytes Volume 38
This week's Sound Bytes is a mixture of some of the finest upcoming material causing a stir at the moment. Kicking things off is the blissed out breakbeats of Digital Witchcraft's 'Snow Day', shimmering into the deep melodies of Gwill Morris' remix of 'The Beat Goes' by Drive, like the sun setting on the ocean. Gazor's 'Stabilized' soundtracks that hazy early evening whilst Holden's 'A Break In The Clouds' aptly signals the change from day into night, where the fierce breakbeats of Chakra's 'I Am' is the soundtrack to the dancefloor after dark. Summer is here, and it's time to party.

SoundBytes Volume 37
Another week means another edition of Sound Bytes, and this week Chloe has put together a few gems currently floating her boat. First up is the very underrated Tipper with a superb cut called 'Forty Winks', which leads us nicely into the latest offering from Steve Porter, who along with his good friend Aaryn Blain has created 'Surrounding Darkness'. European flavour is provided by Andro in the form of 'Space', whilst 'In My Mind' by Anarcrusan is probably one of the most anticipated records of the year, building into the old skool vibes of Panoptic's 'Surface' bringing things to an uplifting and emotive peak ending this week's selection of essential tracks.
SoundBytes Volume 36
The latest Sound Bytes contains a blend of some of the finest old, current and future tracks floating Chloe's boat. First up is the dreamy submerged trance chords of Indigo Child's Underwater, melting subtly into Sphere's astounding remix of Liam Shachar's Senses. A classic Steve Porter track then bridges the move into Charlie May's rework of Ashland's Clear, paving the way for some breakbeat action from Momu and Tilt, culminating in the jawdropping Ivan Gough and Luke Chable remix of 'Sunspirit' by 21st Century Fux, which quite simply you have to hear. Enjoy this latest edition of Soundbytes. Until next week.
SoundBytes Volume 35
Chloe is back this week for Sound Bytes Volume 35. As usual, this is a mixset not to be missed. And for those of you on slower connections, we have lowered the bitrate, so you should have better luck. Enjoy.

SoundBytes Volume 34
Sound Bytes 34 opens with Chloe showcasing one of her own productions for the first time ever. Produced with her friend Turkish, 'Spork' is a perfect start to this edition. 'Spork' leads into fresh and innovative progressive breaks from the doctor Naveen G and upcoming young producer Jacob Todd. Rouzbeh Delavari's 'About You' lends a more laid back european flavour to the mix, whilst his countryman and friend Petter's gorgeous 'Tone Diary' brings this edition of Sound Bytes to the perfect end, showcasing some of the finest young and upcoming talent in the scene today.
NB. Due to several people being unable to listen to previous Sound Bytes, the bitrate has been dropped so that more of you can enjoy these weekly segments from Chloe.

SoundBytes Volume 33
Another breakbeat special for this latest Sound Bytes, featuring the exclusive and highly sought after George Thompson Vs Acid Rockers remix of Highland's No Way Out which gets things off to a kickin start. With tracks from the underground end of the spectrum coming from Maffia Soundsystem and Mcmillian & Tab, Chloe showcases sounds from right across the breakbeat spectrum, with the latest Precision Cuts track from new label Simple continuing the bass testing beat assault., before the mix is ended with a 'brainstormer' from Aether. Run for cover.. incoming bombs..
SoundBytes Volume 32
The feedback to the inclusion of Bermuda Triangle's 'Tay Do 22' on a recent Sound Bytes received so much feedback Chloe has decided to include the as-yet-unreleased 'Second Movement' version of their Mooger Fooger track on this latest edition. Opening this latest mix in grand fashion, further unreleased cuts from the excellent Cristian Berger and the hot new Medway & Sean Cusick track 'Neutrix' already make this a must listen, and with the energetic and uplifting remix of Kris B's 'Last Minute Flight' by Blackwatch's new General Dymanics project bringing the mix to a devastating climax, how can you refuse?

SoundBytes Volume 31
The latest Sound Bytes highlights some of the latest cutting edge promos doing the rounds. Starting with the operatic emotive breakbeats of Bermuda Triangle's 'Tay Do 22', Chloe takes us through a mixture of twisted basslines and grinding grooves, with the superb James Zabiela Remix of Dave Brennan's 'Drink Deep' being a highlight. Throw in the new Dave Gahan single, 'Dirty Sticky Floors', carefully rerubbed by Junkie XL, and the massive solo single 'Whateveritis' from Chris Fortier and already you have four essential purchases, but theres still more to come as Electric Mood's ;">Sacred brings the final word to one of the finest editions of Sound Bytes yet. Be sure to check it out!

SoundBytes Volume 30
30 volumes on, and Sound Bytes is still going strong. This time around Chloe digs out some of her favourite tracks of the past weeks and months and spins them all together like only she can. Starting with 'Tyra' by Tkac and Haverlik, this mix locks you in and throws you around to beats and grooves provided by Giorgio Gigli and Raisani and Borgesuis, culminating into the driving stabs of NDSA's Break Even. Enjoy, and keep checking back for more Sound Bytes weekly
SoundBytes Volume 29
The latest Sound Bytes brings us the loud and brashy beats of Hyper's debut single 'Catnip'. slamming you into deep dark grooves from Hydrogen Rockers and Bassetti. These unchartered sounds drift into the dubby backstreets of Ben Camp's 'Lost Dub Way', eerie sounds and spacial beats soon being replaced by dark tribal style percussion for the finale, in the form of Paris and Sharp's remix of Casa Flava's 'De Moma De'. Enjoy!

SoundBytes Volume 28
Another week, another Soundbytes. This week Chloe takes things down the etheral route, with some deep grooves from Simon Huxtable's new Monothy project, which trickle aimlessly into the downtempo chords of Celestial's Harijan, it's warm analogue sounds slowly drawing you in closer and making you comfortable for the latest cuts from Richard Grey and Jay Tripwire, and ending with the latest Mario & Eric J track on Isle Of Man based label Source Of Gravity

SoundBytes Volume 27
The latest edition of Sound Bytes sees Chloe embark on a slightly more diverse direction as the house grooves of Envy clash with the grooves and basslines of tracks from Source Of Gravity and Inkfish, leading the march nicely into a track from Meat Katie, himself spreading his wings into wider waters before Burufunk slips through the darkness somnambulating to bring things to a close with the eagerly anticipated new single from BT.

SoundBytes Volume 26
Another week.. some other basslines. Chloe is back once more with some new material from the Cold Fusion imprint, slotting them inbetween white label cuts from Hellpass who reworks Jean Michael Jarre's classic Arpeggiateur for the 21st century and the unreleased remix of Bloodlock from up and coming breaks and beats producer Jacob Todd. D-Pimp brings up the rear to finish off this latest edition
SoundBytes Volume 22
Sound Bytes 22 sees Chloe take things a little darker and deeper than usual with grooves courtesy of Sieg and Mouzakis and Electric Tease. From there Unplugged take us into the depths before some white label action courtesy of Subzero and Saltlick. Enjoy this Sound Bytes, and if that isnt enough, Chloe will be at the Winter Music Conference 2003 from 16th - 23rd March. She will be playing at the Proton Sessions party at Union Lounge on Thursday March 20th. Check out her web site for further details. www.djchloe.com.

SoundBytes Volume 21
Things are a bit submerged around here this week, and the latest Sound Bytes showcases the deeper and sometimes dubbier sound of breaks, starting with the superb Mister Cool by Atlanta's Habersham & Numinous. From there comes a slamming track by Kemek The Dope Computer and a collaboration between Meat Katie and hot up and coming producer Christian J. Then to bring thinks back down to earh we have house cuts from the Yoshitoshi stable thanks to Jas and Dave From Dallas. Enjoy!
Habersham & Numinous - Mister Cool (Habersham's House Of Nu Interpretations Dub) - MIF

SoundBytes Volume 20
After last week's deep melodic breaksfest, Chloe redefines her idea of house this week with choice cuts from Joshua Collins and Habersham alongside smokin' joints from Philly's Tigerhook crew and Terry Francis, with a superb track from Evan Marcus proving to be the icing on the cake. Enjoy yet another essential Sound Bytes!
SoundBytes Volume 19
Chloe dishes up a something a little different this time around for Sound Bytes 19, starting with 'Ignite' by the much touted U & K. From here another fresh cut from Ben Camp entitled 'Syndrome' sets the mood for what is to come. Add in the amazing Infusion remix of Bjork's 'Pagan Poetry', and superb innovative tracks from Animated and Petter and this is a Sound Bytes you won't want to miss

SoundBytes Volume 18
This weeks Sound Bytes is based all around the Bass! Thick and bubbly, or dubby and with a lot of funk; I feature Chab, a hypnotic remix of Chris Brann by Envy, a new Philip Charles which features Randall Jones, and Sean Q6, and an unsigned track by senor Smight.
SoundBytes Volume 17
In volume 17, the tougher side of Chloe drops five hard, punchy tracks in just under 32 minutes. Enjoy.
SoundBytes Volume 16
Enjoy just under thirty minutes of the hottest tracks brought to you by the talented Chloe who says "this mix is called...The Techy Sinister Vibey Thing." With a tracks by Deuley and the inclusion of the Pink Floyd sampling white label "Hey You", Chloe shows you her darker side. Step back!.
If you like her sets here and need more, don't forget to check her Groovetech shows on Thursday and her weekly show over at Proton Radio.

SoundBytes Volume 15
For Volume 15, Chloe steps up to the decks armed with an arsenal of vinyl from top labels such as Distinctive, SAW, Shinichi, and System Recordings.

SoundBytes Volume 14
Just shy of 30 minutes, Chloe delivers up the sounds of breaks for this installment of Sound Bytes. Like the previous 13 volumes, this one is not to be missed.

SoundBytes Volume 13
We are finally starting to get back into the swing of things here at Progressive-Sounds following the holidays. To help bring us into 2003, Chloe has mixed up 6 tracks into a short 30 minute listening byte. What a great way to start the year. Enjoy!

SoundBytes Volume 12
Every week I think to myself that Chloe's Sound Bytes can't get any better, and amazingly enough, they do. For this mix, Volume 12, Chloe packs 6 of the hottest tracks into a 30 minute set for your listening enjoyment.

SoundBytes Volume 11
Chloe, just recently back from a fantastic gig in the Windy City (Chicago), returns for Sound Bytes Volume 11. Check it out.

SoundBytes Volume 10
SoundBytes Volume 9
Volume 9 is one day late from our normal Tuesday release but here it is. Sorry for the delay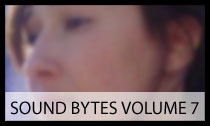 SoundBytes Volume 7
Another week, another sound bytes. As the cold of winter kicks in, things start off a lil cold and eerie with spacial sounds from Hybrid and Ashtrax as the mystical energy is maintained thanks to tracks from Deceptions, G-Pal's superb remix of Sonido Profundo and culminating in an exclusive remix of Sasha's Wavy Gravy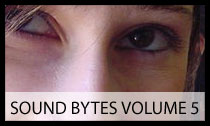 SoundBytes Volume 5, the Breaks edition
Chloe is well-known for her laid back chill sets that are full of emotion and tight breaks arrangements. For this volume of SoundBytes, Chloe grabbed a few choice cuts from her own record bin to lay out a beautiful atomosphere for you all. Here is what she played: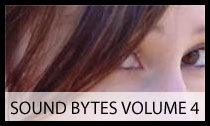 SoundBytes Volume 4
Chloe returns this week with five tracks that have been making waves here at Progressive-Sounds. Hear what we hear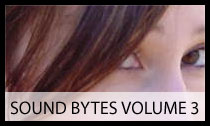 SoundBytes Volume 3
Chloe returns this week with four not to be missed tracks. In my opinion, this is her best mix yet.

SoundBytes, again with DJ Chloé
After enormous popularity, Sound Bytes returns one week later with more slamming tunes for you. This week, Chloé grabbed five hot tunes that we want you to hear and mixed them in fantastic progression. Hear the story unfold.